Core Box
Battle For Vallor
With "Battle for Vallor" core box, you'll get everything you need to immerse yourself into the Legends of Signum universe.
You'll be in the frontliness witnessing and controling the destiny of brutal and vicious fantasy battles between "The Free City of Vallor" and "Holy Grypharim Empire".
The Core box contains 22 unique carefully crafted resin miniatures along with over 200 game components, cards etc.
So what are you waiting for? Let the battle commence..

The Legends of Signum: Battle for Valor Starter Core Box sets a battlefield that will change the face of Signum. With two Great Powers – The Free City of Vallor and the Holy Grypharium Empire – facing off in a fateful clash, the Core Box features 22 beautifully detailed resin miniatures, and two separate 30-card battle decks and a unique Hero Card for each side. 30 terrain and building cards, along with 10 terrain templates, will make every single battle unique both strategically and tactically. You will also find tokens, unique Signum Game dice, special rulers, and, of course, a rulebook with a quick rules reference sheet.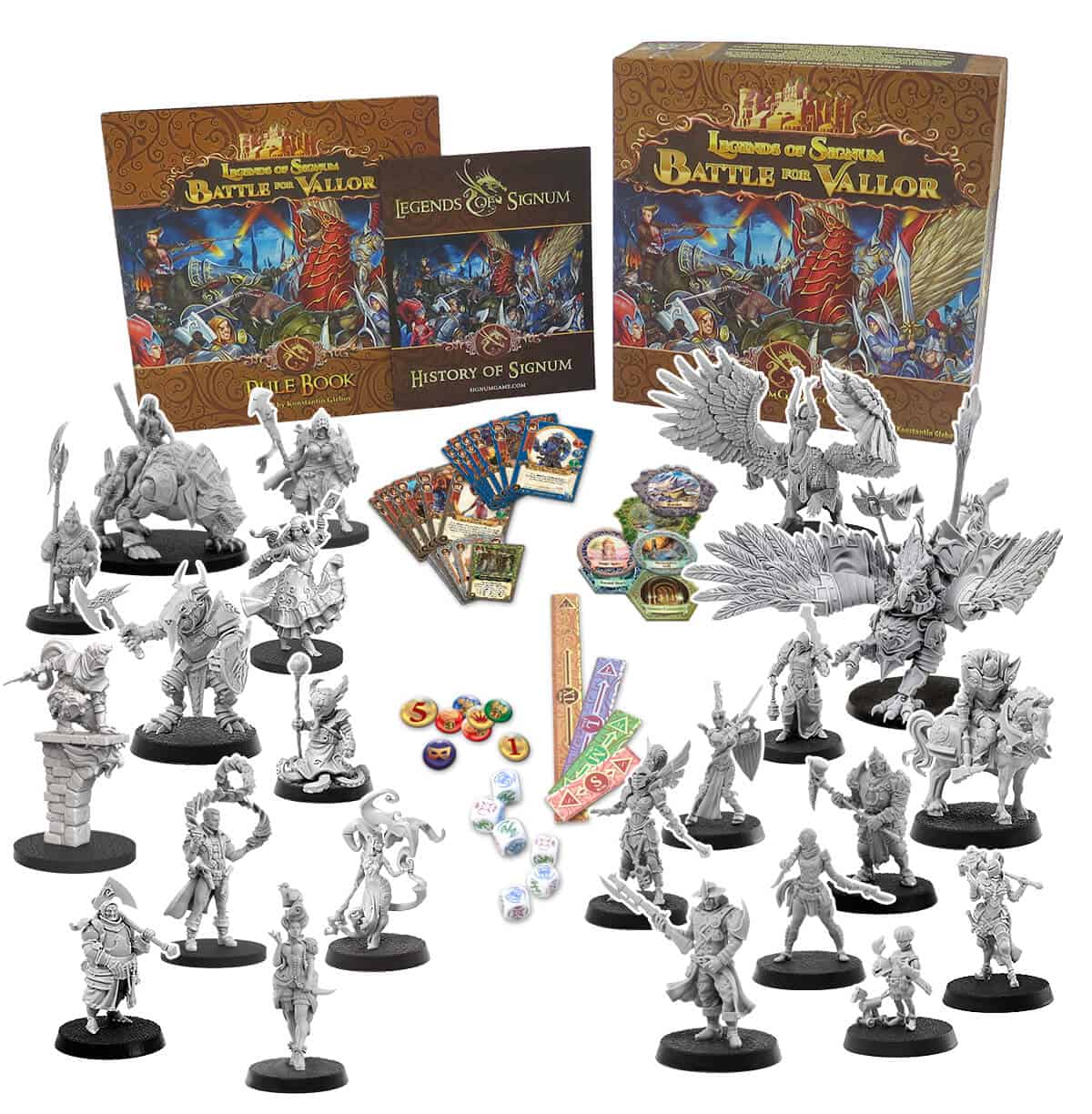 Rule Book & Quick Rules Reference
6 Special "Legend of Signum" Dice
2 Hero Cards
30 Cards – "Battle Deck Free City of Vallor"
30 Cards – "Holy Grypharim Empire"
30 Cards – Terrains and Buildings
1 Hero (Brissa de Molforn, Beast Mistress)
10 Free City of Vallor Miniatures
1 Hero's Miniature (Roland the Proud, Marshall-Protector)
10 Holy Grapharim Empire Miniatures
22 Highly Detailed Resin Miniatures

30 Terrain and Building Cards

10 Terrain Templates

Rule Book
100 Tokens

6 Signum Game Dice

4 Special Rulers

Quick Rules Reference Sheet
30 Cards – "Free City of Vallor" Battle Deck

30 Cards – "Holy Grypharim Empire" Battle Deck

2 Hero Cards